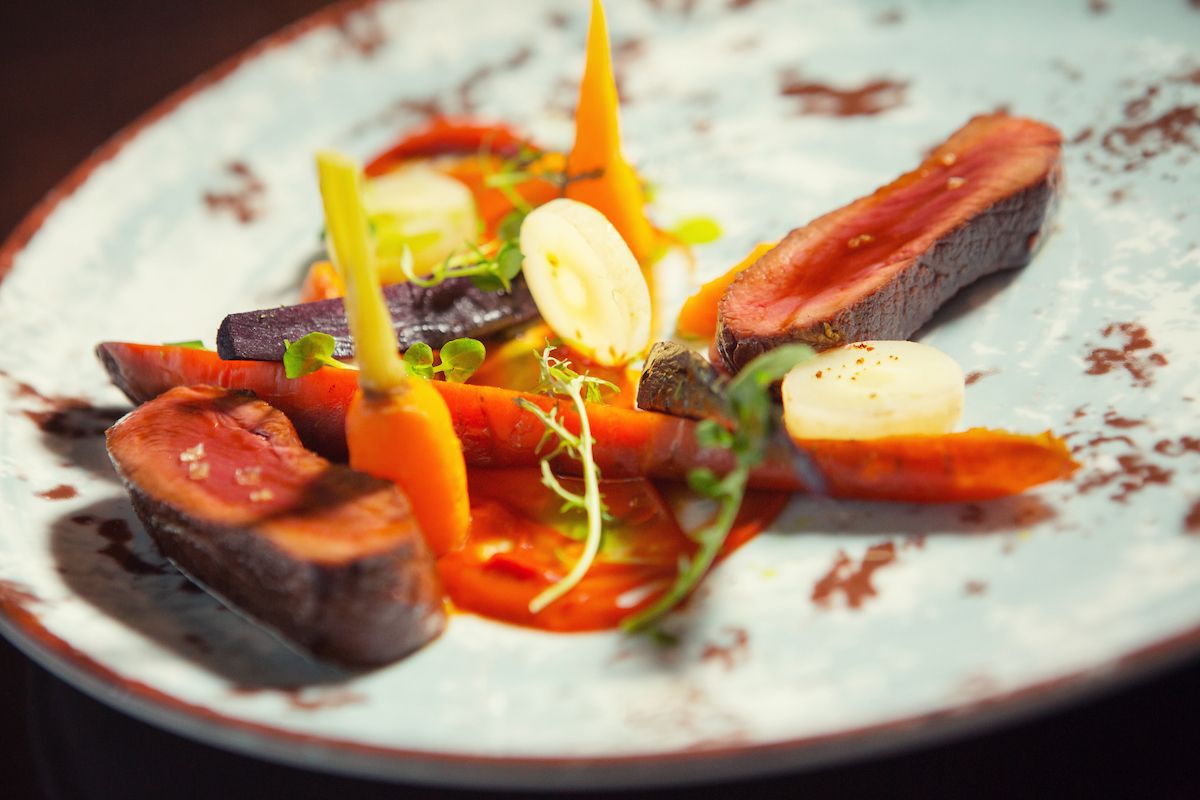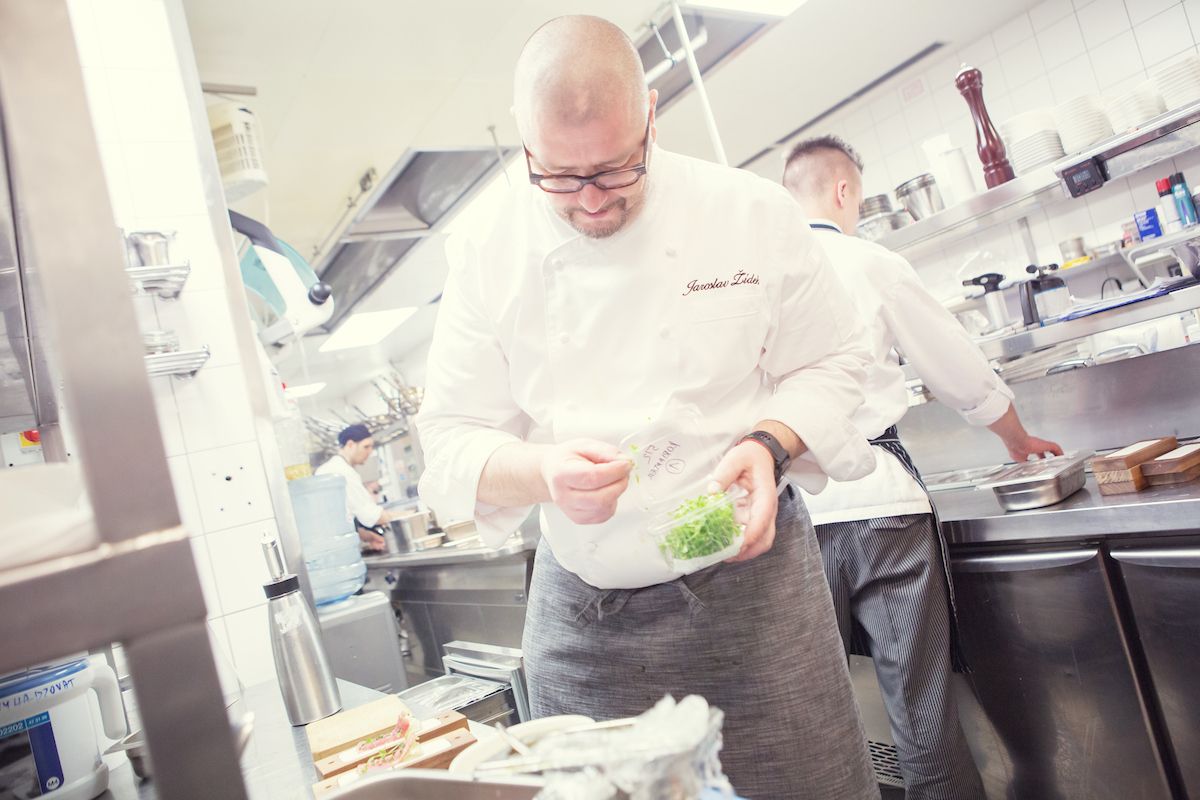 Á LA CARTE
Breakfast buffet
Lobby Lounge
SUNDAY BRUNCH
Á LA CARTE
À la carte menu is served: Mon - Sun : 12:00 pm - 03:00 pm, Mon - Sat : 6:00 pm - 10:30 pm. Restaurant guests have available free hotel parking in section -2.
STARTERS
Arctic Char - 9,9 €
Marinated and poached filet served with Parsnip, Apple, Horseradish and Cucumbers
St. Jacob's Scallops - 14,9 €
Seared and served with Cauliflower, Ginger butter sauce and golden Raisins
Potatoes and Cheese - 8,9 €
Potato confit, Onion, Mushrooms, Walnuts and Slovak Handmade aged Cheese foam
Duck Foie gras - 12,9 €
Paté with Pears, dried Apricots purée, Sesame, poppy seeds and Ginger breadcrumbs
Veal - 13,9 €
Grilled veal sweetbreads served with Chick pea, braised Onion and coffee sauce
SOUPS
Jerusalem artichokes - 6,5 €
Creamy sweet and sour soup with Egg, Mushrooms and Dill
Veal - 8,5 €
Heavy Veal tail broth with meat, Vegetable and noodles
SALADS
Beet root - 8,9 €
Roasted and pickled with Horse radish, Apples, assorted sprouts and Orange – mint dressing
Mesclun - 8,9 €
With endive, blue cheese, pears, mandarins and roasted walnuts
MAIN COURSES
Wheat (vegetarian) - 12,5 €
Sprouted red wheat with Mushrooms, basil butter and Egg
Sturgeon - 25,5 €
Grilled filet served with Fennel, Broccoli, Potatoes and shell Fish sauce
Cat fish - 23,7 €
Braised in Bell Peppers sauce with homemade Noodles with Quark and Dill
Beef - 33,5 €
Classic peppered filet steak with cognac sauce, Cranberry compote and mashed Potatoes with Onion
Lamb - 26,9 €
Grilled loin with Pumpkin and sweet Potatoes purée with sheep Cheese, pasta and Herb sauce
Deer - 25,9 €
Grilled saddle served with roasted Carrot and sweet potatoes, Rosehip jam, Nuts and Raisins
DESSERTS AND CHEESES
Chocolate - 7,6 €
Chocolate cake with caramel, nuts and roasted rye ice cream
Vanilla - 6,5 €
Classic Crème Brûlée served with Pear compote and Vanilla ice cream
Apple - 6,5 €
Caramelised Apples with Cider granita, Cinnamon sable and Apple foam
Chestnuts - 6,5 €
Cake cut with Lemon ganache, Pineapple and Yogurt ice cream
Cheese - 9,5 €
Selection of local and imported Cheeses
Breakfast buffet
Breakfast menu is served: Mon - Fri : 6:00 am - 10:30 am / Sat - Sun : 6:30 am - 11:00 am Price is 29 € /person. Restaurant guests have available free hotel parking in section -2.
Hot Items
Omelette Station
with cheese, ham, tomato, onion, paprika, mushrooms, bacon Soft boiled eggs Hard boiled eggs
Waffle Station
with strawberry, vanilla (sauce), fresh cream, fruit salad
Chafing dishes
Daily: bacon, sausages, grilled tomato, fried mushrooms, baked beans, potatoes, Eggs Benedict, blinis, French toasts, Condiments: maple syrup, tomato, mustard, ketchup, Tabasco
Cold Cuts
Parma ham, smoked turkey, selection of local sausages, Liver paté
Fish: Marinated salmon, smoked trout
Olives, marinated cucumbers, sliced tomatoes, sliced cucumbers, green salad
Juice Station
Orange, grapefruit, tomato, apple juice
Selection of fresh juices
orange ,carrot, apple & pear, pineapple & mixed fruit juice
Selection of milk shakes
raspberry & vanilla, mango & vanilla, chocolate, banana & vanilla, strawberry
Mineral water
still & sparkling
Bread Station
French baguette, selection of rolls, selection of Danish pastries
Croissants: plain, cheese, almond, chocolate
Toasts: white, brown bread
Margarine, butter, honey, selection of jams and marmalades
Dairy Corner
plain yoghurt, fruit yoghurts (portion, bowl), milk (full cream, skimmed), cottage cheese
Fruits & Cereals
muesli, frosties, corn-flakes (portion), birschermuesli, mandarin segments, grapefruit segments, stewed prunes, stewed apricots, fresh fruit salad, sliced pineapple, sliced melon, sliced watermelon, grapes, bananas, oranges, apples, pears, kiwi, dry fruit
Green Corner
Juices, nuts, cranberries, chia
Lobby Lounge
Lobby Lounge is a perfect choice to discuss business or less formal meetings accompanied with delicious simple foods, savory and sweet breakfasts, energy-boosting coffee or specialty cocktails. Menu is served: 10.30 AM - 01. AM.
APPETIZERS
Beef - 14,5 €
tartar seasoned in traditional Slovak style with toasted or deep fried bread
Spring Rolls - 11,5 €
deep fried stuffed with minced beef and vegetable, sweet and sour chili sauce
Chick Pea & Jerusalem Artichokes - 8,5 €
hummus with Jerusalem artichokes chips
SOUPS
Soup of the day - 4.00 €
11:30 AM - 3 PM
SPECIAL OFFER
Caviar (Imperial, Malossol) - 125 €
served with chopped hard-boiled egg, crème fraiche and chive, blini and toasted bread
SALADS
Romanian leaves - 9,9 €
with anchovy dressing, Parmesan cheese, croutons and bacon / with deep-fried chicken breast
SENDVICHES & BURGERS
Panini - 9,9 €
Mozzarella, tomato pesto, Parma ham, Pecorino Romano cheese, Salami, chedar cheese
Club Sandwich - 16 €
steak chips, remoulade
Bookmaker - 22,5 €
toasted bread, filet of beef, horse radish, Dijon mustard served with sweet potato chips
Burger - 18,5 €
minced beef, chips and remoulade
MAIN COURSES
Wheat - 12,5 €
sprouted red wheat with mushrooms, basil butter and egg
Spagetti - 9,5 €
Garlic, chili, shallot onion, tomato
Cod - 22,5 €
deep fried breaded cod with homemade remoulade and steak chips
Veal - 22,5 €
classic schnitzel with potato salad
DESSERTS & CHEESES
Chocolate - 7,6 €
chocolate cake with caramel, nuts and toasted rye ice cream
Seasonal fruit plate - 6 €
Cheese - 4,5 €
selection of local and imported cheese
SUNDAY BRUNCH
Experience tasty Sunday brunches with the whole family at the Riverbank Restaurant. Buffet is served every Sunday from 12 pm - 3 pm. Price: 30 € per person. Children under 6 free of charge. Children aged 6 to 12: 50% of the price. Restaurant guests have available free hotel parking in section -2.
COLD BUFFET
Smoked Salmon with mustard sauce
Smoked pork knuckle ham with sauce " Gribiche"
Selection of local and international salami
Selection of cereals, cornflakes and muesli with milk
SALADS
Beetroot Salad with Horseradish
Traditional Caprese with Basil and Olive oil
SOUPS
Beef broth with Meat, Vegetables and noodles
WARM BUFFET
Roasted fillet of Salmon
with white wine sauce and boiled Potatoes
Traditional Pork and Chicken "Schnitzel
with cold Potato salad
Beef "Burgundy " style
with mashed Potatoes
Roasted Duck leg
with braised Cabbage and Potato dough pancakes
Stir-fry Potatoes
with Bacon and Egg
Pearl barley Risotto
with Asparagus
DESSERTS
Bread and Butter pudding with Apples and Curd Cheese
Chocolate Cake with Wallnuts
Breakfast: Monday - Friday

6:00 am - 10.30 am

Breakfast: Saturday - Sunday

6:30 am - 11:00 am

Lunch: Monday - Sunday

daily from 12:00 pm to 3:00 pm

Dinner: Monday - Saturday

6:00 pm to 10:30 pm